Surviving Abortion
Inside and Out
Saturday, October 21, 2023

7:00 am – 9:00 am (Pacific)
8:00 am – 10:00 am (Mountain)
9:00 am – 11:00 am (Central)
10:00 am – noon (Eastern)
Register at the bottom of this page for this webinar.
Webinar fee: $10
No charge for: ITEST members, clergy, seminarians, women and men religious
Donations are appreciated.
LIFE Runners President & Founder
Real healthcare defends life at all stages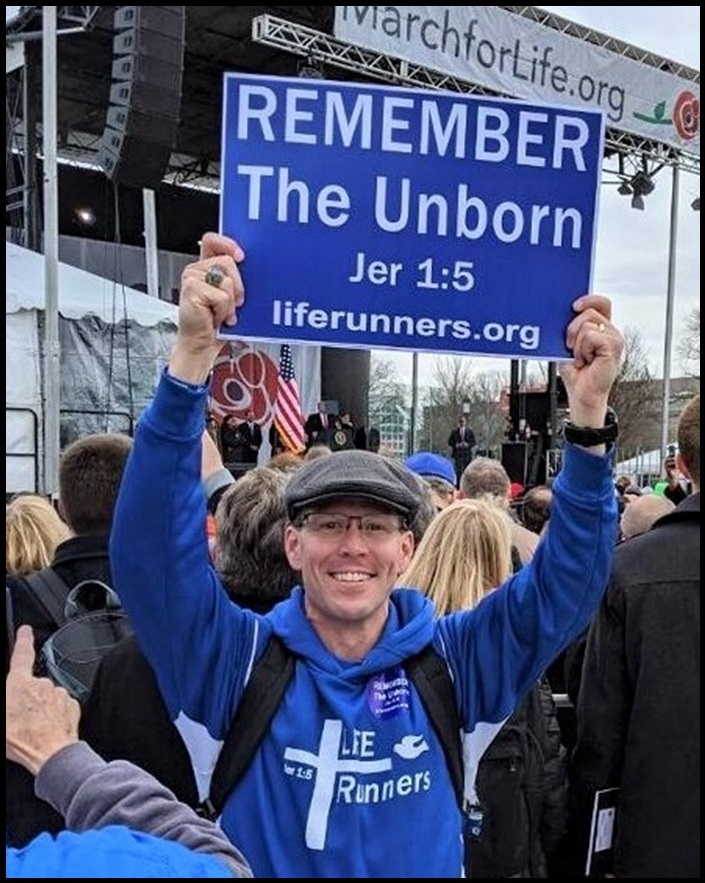 Dr. Patrick Castle is the founder of LIFE Runners, the world's largest Pro-Life team with over 21,400 teammates who wear "REMEMBER The Unborn" jerseys as a public witness in over 3,300 cities. Pat is an inspiring and unifying force for Pro-Life through faith, activism, and education. He served as a pregnancy help center chairman and teaches outreach at abortion facilities. He grew up in Sioux Falls and graduated from the Air Force Academy where he later became a chemistry professor. He earned a PhD in nano-analytical chemistry from the University of Illinois and is a board member of ITEST. He did ten military assignments, including the Weapons of Mass Destruction defense officer at the base closest to Osama bin Laden on September 11th. Pat has delivered millions of life-saving messages and raised over $5 million to help end abortion.
Did you know that Hippocratic Oath specifically forbids abortion and euthanasia?
Did you know the American Medical Association in 1859 unanimously voted that life begins at conception and that abortion is criminal?
Did you know that Google makes it more difficult for mothers to find pregnancy help centers online?
Did you know that the FDA removed the warning that Plan B can cause an abortion?
Did you know that the current administration is working to repeal conscience protections for healthcare workers?
Did you know that running is optional for LIFE Runners?
And much more!
President of Steno Institute
Abortion Pill Reversal: Giving Women a Second Chance at Life
Dr. George Delgado is the founder of Abortion Pill Reversal, a program that connects women who have changed their minds after taking mifepristone (RU 486) and want to reverse the effects of the abortion pill. He is the author or co-author of three articles in the peer-reviewed medical literature that support the use of progesterone for the reversal of mifepristone (RU-486) medical abortions. More than 4,000 babies have been saved with the reversal of medical abortions. Doctor Delgado is board certified in family medicine as well as hospice and palliative medicine. Dr. Delgado completed his residency at Santa Monica Hospital UCLA and graduated from the University of California, Davis, School of Medicine. He has received numerous awards for his pro-life work. Dr. Delgado and his wife Liz have four children and six grandchildren.
Mifepristone chemical abortions account for about 60% of all abortions in the United States. Some women, after starting the chemical abortion process, change their minds and want to continue their pregnancies. Abortion Pill Reversal (APR) utilizes supplemental progesterone, the maintenance hormone of pregnancy, to out-compete the abortion drug. APR offers women a second chance at life. Women offered the option of reversing their chemical abortions are very grateful.
Mainstream medical organizations, Planned Parenthood, and the ACLU have fought vigorously to discredit APR and make it less available. The evidence in the medical literature is very reassuring that Abortion Pill Reversal is safe and effective.
Dr. Cynthia Toolin-Wilson
Academic Dean – Pontifex University
Surviving Abortion as the Victim
Dr. Cynthia Toolin-Wilson converted to Catholicism at age 38 due to a religious experience in the catacombs. She had previously earned a BA, MA, and PhD in Sociology. She has spent most of the rest of her adult life learning about the faith, earning a 90 credit MA in theology at Holy Apostles College and Seminary, and then an S.T.L. at Dominican House of Studies in Washington, DC. She taught seminarians (over 200 at last count), religious, and lay people about the faith at Holy Apostles for 28 years. She currently teaches at Avila Institute, Holy Apostles, and Pontifex University, where she is the Dean of Theology. Dr. Toolin-Wilson is the author of the book, Survivor: A Memoir of Forgiveness, where she tells the story of how her mother's attempt to chemically abort her impacted her life.
The most important event of my life occurred when I was eleven years old. That was when I found out that Ma and Grandpa tried to kill me, with the knowledge and agreement of many family members, including Pa.
On a hot summer evening in her kitchen, Ma told me after several hesitations, that in 1949 Grandpa bought a chemical at the drugstore that would make her lose me. She was annoyed that I didn't understand what that meant. So, she told me that she didn't want a baby and the medicine would make me go away. I asked her why the medicine didn't work, and she explained that when she started bleeding, she was afraid she might die too, so she stopped drinking it. The fact that she was afraid of dying was the second most important event of my life.
I never felt the same about her or the family members. I suspect that her cousin, who had married a Catholic man, and had used medicines for years to prevent a pregnancy, had told Ma what medicine to buy.
Here I am 62 years later (that is, I am now 73 years old). I am the age my mother was when she passed. My husband Jimmy Toolin, a devout Catholic, died of cancer; my second husband Bill Wilson, who I managed to bring back to being a practicing Catholic, died of heart, liver, and kidney failure. Between them, if I count all the way to great grandchildren, I have 38 descendants.
Dr. Stephen Sammut received a B.Pharm from Monash University in Victoria, Australia and a Ph.D. in neuroscience from the University of Malta in Malta, Europe, and is currently a Full Professor of Psychology at Franciscan University of Steubenville, OH, where he teaches and is also actively involved in research. His research efforts currently are focused on three primary areas: 1) research geared at investigating the neurological, biological and behavioral consequences of drug-induced abortion in an animal model, 2) research addressing the abortion-pill-reversal at the pre-clinical level, and 3) research addressing the development of an animal model for embryo transfer in ectopic pregnancy.