Is Evolution Catholic? Our answer is yes — the kind of evolution that only God could guide to our present state. Click here to learn more. 
Our Lady of Guadalupe Conference
Held on Sunday, November 18, 2018
The Cardinal Rigali Center, St Louis, MO 

"Our Lady of Guadalupe: Icon of a New Church and a New America" 
An Evening with The Shroud of Turin

Held on October 26, 2017, at Kenrick-Glennon Seminary, the viewing of a replica of the Shroud of Turin that is housed permanently at the Seminary. 
Is there anything new to say about the Shroud? Was the Carbon 14 Dating of 1988 Valid or Not? We will probe these and other questions revolving around the Shroud with keynote speakers, Father John Nickolai, Associate Pastor at St. Joseph Parish in Imperial Missouri and Mark Antonacci, lawyer and author of Test the Shroud,* 2015. Serving on the panel will be scientists Arthur C. Lind and Robert A. Rucker.
The Changing Role of Technology in End of Life Issues
Saturday, October 22, 2016
Held at the Allied Health Professional Building on the South Campus of St. Louis University. A recommended reading was "Catholic Health Care Ministry and Contemporary Culture: The Growing Divide" an article, written in 2009 by Dr. Ed Pellegrino.
To download a pdf of Dr. Ed Pellegrino's essay "Catholic Health Care Ministry and Contemporary Culture: The Growing Divide"
Teaching Science and Faith – Conflict or Confluence?
For High School Science and Religion Teachers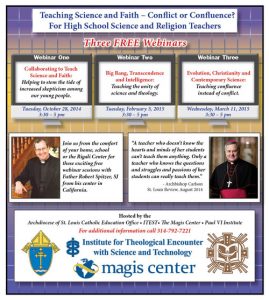 While the videos are no longer available, a great deal else is. Click here to go to the Magis Center.
ITEST Conference on
Economic Justice in the 21st Century
Myth or Reality

Held on October 23-24, 2014, at the Cardinal Rigali Center in St Louis, MO. Speakers included:  Dr. Edward J. O'Boyle, economist and senior research associate at the Mayo Research Institute, West Monroe, Louisiana; Dr. Hermann Frieboes, theologian and adjunct professor at Holy Apostles College & Seminary, Cromwell, Connecticut and University of Louisville, Kentucky, and Dr. Martin Rafanan, Community Organizer, Fast Food Worker Movement and Co-Chair of the Workers Rights Board of Missouri Jobs with Justice.
Can Science Tell Us Anything About God?

ITEST sponsored a lecture by Father Robert Spitzer, SJ, on Friday, May 2, 2013, from 7 to 9 p.m. at the Cardinal Rigali Center.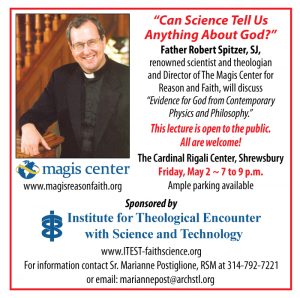 ITEST 2012 Fall Conference
"An Open Forum on Early Human Life Issues: A Constructive Dialog"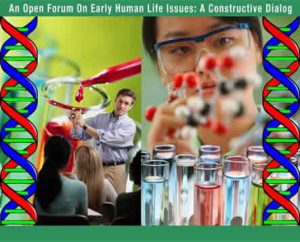 ITEST 2011 Fall Workshop Archive
Cyberspace Safety for Teens in an Age of Facebook, Twitter and Texting
Below are the presenters from the Fall 2011 Workshop. 
 The Presenters and Topics:
Pornography Addiction
Bart Niedner, Former Mayor of Louisiana, MO
Digitally Enhanced & Socially Detached: The Power and Influence of the Internet 
Travis Smith, PhD, LPC, Program Director, LifeStar of Eastern Missouri
Cardinal Rigali Center
20 Archbishop May Drive, Suite WG-403
St. Louis, MO 63119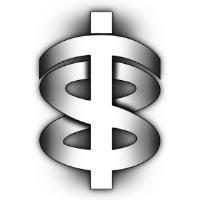 © Copyright ITEST Institute